In packaged products, context is king
Find the authors
on LinkedIn:
Chris Houghton leads Brand Innovation & Packaging at Cambridge Design Partnership, he has worked on an array of successful insight, design and strategic innovation projects with top consumer goods names including Arla, Carlsberg, Coca-Cola, Diageo, Nestle, PepsiCo, Procter & Gamble and Unilever.

Following his 'Context is King' keynote speeches at PACE in Amsterdam and AIPIA in New Jersey, he summarises five key questions brands need to answer when building an innovation pipeline.
Bill Gates famously wrote, Content is King back in 1996. His forecast…"Content is where I expect much of the real money will be made on the Internet"…

How right he was as we've seen the digital revolution establish over the past decade. On demand streaming services have overtaken traditional audio and video formats with gaming next on the horizon. Coupled with new business models, the likes of Uber and Airbnb have tapped into consumer demands making brands sit up and think what should we do to take advantage of this fertile digital landscape?

Context #1. Who?
Who are you designing for? Do you understand their cultural sensitivities, their customs and established rituals? Do you know their values? Their gender or generation? Their mental and physical abilities? Are they tech-savvy – do they need to be? The better you understand specific population cohorts the better your chance of successfully meeting their expectations.

Each culture and country has its own technology trajectory and utilisation levels. The worldwide average for time spent on the internet is now 6hrs 42mins which is just above USA's average but some way short of chart toppers the Philippines clocking in at over 10hrs per day (source Digital 2019, wearesocial.com users aged 16-64).

Some categories like beauty and cosmetics are ahead of the curve with high digital engagement. L'Oreal was one of the first brands to realise this with their Makeup Genius app which allows users to compare before/after make-up and hair effects on-screen. This pre-purchase, augmented reality tool enables fast navigation of product choices to help consumers decide what to buy – within two years L'Oreal said it had 20 million users worldwide.

For decades, beauty brands have been heavily reliant on celebrity endorsements or experts in lab coats to target and assure consumers but today that paradigm is changing. Millennials increasingly seek individuals that they can relate to, building seemingly intimate relationships with those they follow on Instagram and YouTube channels, who ultimately steer their lifestyle decisions. This mix of opinions, edited evidence, facts and 'fake news' can confuse many consumers, so building trust is more important than ever.

Context #2. What?
What category does your brand belong? Beverages, confectionery, personal care? The answer to this is obvious, of course and you'll invest great effort closely tracking the activities of your competitors. But that is just the start. Innovations don't always come from your direct competitors. Instead, brands are often blindsided from an unassuming left field competitor, arriving at speed with disruptive and transformational innovations. For instance toothpaste brands didn't expect their category to be impacted by confectionary companies making chewing gum with teeth whitening claims.

We look at the 'what' in a solution agnostic way using the 'jobs-to-be-done' methodology. In a nutshell this approach states that when consumers become aware of a job they need to get done, they look around for a product or service that they can hire to do so.

Procter & Gamble's Tide is a good example of a brand that have extended their portfolio to cater for changing contexts. The core range is unsurprisingly traditional powder, liquid and convenient pod packaging, but more recently Eco-Box was introduced to address e-commerce shipment and improved sustainability stats. The brand has even stretched beyond products solutions with the test market launch of Tide Cleaners. A direct to consumer, digitally enabled, subscription service that targets 'generation rent' to simply drop/collect dirty/clean laundry. This cleverly allows the brand to reach new consumers whilst experimenting with new business models, partnerships and logistical infrastructures in a low risk way.

Context #3. Where?
Where is your product used? At home, at work or on the go? Each location may present a different hierarchy of jobs. In fragrance, for example perfumes have clearly defined packaging conventions. Consumers expect a thick-walled glass bottle, an elegant closure with a precise dispensing atomiser. This objet d'art is entirely appropriate to adorn a home dressing table. However, if on the go, this format no longer seems so practical for a handbag.

In 2017 British parfumier Jo Malone launched Fragrance Paintbrush under the brand Jo Loves. A compact perfume gel applicator that is crucially handbag friendly. This delivers an entirely different application ritual, delicately brushing quick drying fragrance onto the skin rather than the traditional perfume spritz.

In a digital, augmented world understanding the 'where' is crucial to enable or enhance the experience, especially when leveraging the surrounding environment. Whilst outside the packaged goods world, I find EuroStar Odyssey an insightful and charming experience to entertain children during a long train journey. Instead of uninspiring views inside a concrete tunnel beneath the English Channel, the carriage is virtually transformed into an underwater viewing gallery with dolphins and whales swimming besides you to help families kick start their vacation.

Context #4. When?
When is your product used? This can have a crucial bearing on consumer engagement levels especially regarding available time and tolerance levels. For example, a parent making up baby formula has very different functional, emotional and social 'jobs' depending on the time of day. Sterilizing equipment, measuring and mixing powder at 3pm is very different to 12 hours later for the 3am feed in the dark whilst you're still half asleep, was that 4 scoops or 5?

When is a crucial dimension for digital interaction too. Many successful smart packaging examples have come from high engagement categories like alcoholic beverages and beauty where consumers make extra time for interaction and brand owners see sufficient 'value' to deploy cost sensitive technologies and/or content.

Context #5. Why?
Why should we choose your brand? What motivates us? What jobs are we trying to achieve? 'Why' ties together all of the other contextual considerations and forms the heart of any value proposition and reason to believe.

Take PepsiCo's Gatorade brand for instance with their emotive message of #WinFromWithin. They understand people are motivated to 'win' especially in a sporting context. This reinforces how the brand was created in 1965 by scientists to provide athletes competitive advantage through superior hydration. Fast forward 50 years and the brand found themselves losing share with an influx of competitors big and small. To reverse this trend they identified contextual consumer jobs to cater for their needs more comprehensively. This prompted the launch of G Series, primarily a 'When' based product range to help athletes before (Prime), during (Perform) and after (Recover) sporting efforts. This triggered their portfolio to grow beyond solely sports drinks into food to create an ecosystem of sports fuels, from chews, bars, powders, drinks etc. More recently we've seen the launch of the Gx Bottle, a smart hydration system that helps individuals to customise their own products, with connected sweat tracking and variable carbs and electrolyte pods, the Nike ID of the hydration world.

So ask yourself, is your brand prepared for this revolution? Do you cater for those consumers that don't accept one-size-fits all? Whilst Content may be King in the purely virtual, service-based world, Context is King for physical, packaged offerings where content can augment and enhance the physical experience rather than be able to entirely replace it.
Find the authors on LinkedIn: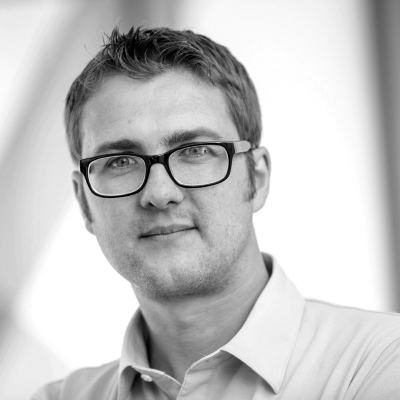 Chris Houghton
Partner and head of FMCG