Six steps to build successful biodefence strategies
Find the authors
on LinkedIn:
Biosimilars are taking on the multi-billion-dollar blockbuster drugs of today, with some sources suggesting that the market will be worth greater than $20 billion per annum within the next couple of years. The growth is being driven by factors such as healthcare systems looking to reduce costs and the growing prevalence of chronic diseases like diabetes and cancer.

Oncology and auto-immune disease therapeutic areas, where there are many significant molecules are a focus for biosimilars – with many of the hero drugs going off-patent. Last year, erlotinib (Erbitux) went off-patent. It is being followed by trastuzumab (Herceptin) and bevacizumab (Avastin ) this year. And by 2025, ipilimumab (Yervoy) and densoumab (Xgeva) will join them. Defence strategies against biosimilars have included formulation changes which enable a change in mode of administration, from infusion to subcutaneous injection. Others have included improved molecules in the same drug class or even exploiting a completely new drug class!

Herceptin is a good example as Roche reformulated it for subcutaneous use in 2014. The result was extended patent protection and a commercially-successful defence against the chasing pack of biosimilars. Other strategic moves by Roche have included the launch of Kadcyla, an antibody-drug conjugate which delivers a chemotherapy using the HER2-receptor targeting mechanism of Herceptin.

These successful strategies all share one thing: they are based on innovations that answer user needs through technology. At Cambridge Design Partnership, we work on the ethos that innovation arises by answering user needs through the right technology – no matter which market, application or industry. This is particularly effective in those difficult situations where a market is stagnant or declining, when a deeper understanding of user needs becomes essential.

As an example, in the smartphone market sales are declining. Users need a smartphone which is large when being used, but small when being stored and transported, so foldable smartphones may arrest this decline. Novel screen technology is being developed to answer this "unmet need" in the market: the iPhone that becomes an iPad when you are using it for watching movies. In a similar way, the switch from intravenous infusions to subcutaneous injections really answered user needs, from both the patient and healthcare perspectives, by removing the time required for a patient in a hospital to receive an intravenous infusion.

At CDP we use our in-house user and technology mapping techniques to discover and build the connections that lead to such novel and inventive solutions. There are six basic steps to making these connections:

1. Plot the overall care pathway around the drug. For Herceptin, there may be opportunities to innovate at other parts of the care pathway than the administering drug, such as the initial companion diagnostic tests or even managing potential complications after treatment.

2. Map the user steps within interesting parts of the pathway. The initial problem of how to innovate around Herceptin is broad and overwhelming! By breaking it into its parts, we can identify simpler problems to solve and target those in which we have a greater chance of success. One approach is to break down the process of administering Herceptin into each single step executed by every person from its manufacture to delivery. This can be achieved through interviewing users, following national guidelines, reading blogs watching videos – with the information being analysed and interpreted in a systematic manner by a skilled interviewer/ analyst. Those steps in which improvements in time, costs, performance and experience can be made should be highlighted, eg. the injection of the drug slowly over 2 to 5 minutes.

3. Identifying the issues and their causes. For each of these steps, there are a number of issues which need to be solved in order to make these improvements. If we can identify the causes of these issues, we can work out how to solve them. For instance, a key issue in injecting Herceptin over 2 to 5 minutes is that it is difficult to keep the injection stable over 5 minutes as caused by the user's hands beginning to shake. Another issue is that the injection device has to be held in place for up to 5 minutes, caused by the subcutaneous space under the skin only having a finite volume to receive the drug.

4. Formulate simple strategies to counteract these causes. Now that we know the issues and their causes, we can devise simple strategies to overcome them. So the user's hands are shaking during delivery – can we remove the need to use hands during delivery? The subcellular space is too small – our strategy is to make it bigger.

5. Discover the solutions through the strategies. By expressing the strategy in simple language, the problem can be accessed by people from different background and assumptions are broken. Can we really remove hands from the process of administration? Can we really expand the sub-cellular space? Experts from many domains will come up with solutions through the strategies which align with their knowledge. Solutions which will enable improvements in injection range from large volume on-body injectors to enzymes which can break down the barriers in the sub-cellular space to increase its actual size!

6. Complete the map using multidisciplinary experts and other sources. It is important now to complete the map. Every improvable user step must be mapped, identifying the underlying issues and causes to formulate simple strategies to counteract them. This will give confidence that all potential areas have been explored, and the best possible solutions are being taken forward. Often repeated issues, causes and strategies occurring across the map can lead to the highest-impact innovations being identified.

These structured mapping techniques enable creative solutions; they are comprehensive in their approach to identifying the right defence strategies. They are competitive by helping to find technology spaces in the market and getting there before the competition. And most of all, they are user-centred, more likely to lead to market success by deeply interpreting stakeholder needs. They lead to innovative markets, technologies, propositions and partnerships from which powerful all-encompassing biosimilar defence strategies can be built.

You can hear me speak more on this topic at Pharmapack, taking place on 6 & 7 February in Paris. I'll be talking in session 4: New in Biologicals and Biosimilar Drug Delivery Devices, 7 February at 11am. Cambridge Design Partnership will also be exhibiting on stand C78 where you can meet our drug delivery and innovation experts.
Find the authors on LinkedIn: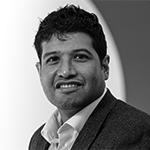 Pari Datta
Senior Innovation Consultant