The lockdown beauty trends here to stay
Find the authors
on LinkedIn:
Lockdowns, video calls and face coverings dramatically changed our relationship with beauty. Meanwhile, COVID-19 restrictions shook up how we bought cosmetics and skincare.
Jessica Platt, Associate Insights Researcher, examines how beauty habits changed and which are set to last.
How lockdown changed beauty
Months of virtual meetings, dinner parties and quizzes made us ask whether our existing cosmetics could keep us looking camera-ready all day.
But while online with FaceTime, Teams and Zoom, in the physical world we stepped back, observing the social distancing rules, and hiding behind face coverings. It's no surprise that these two extreme worlds ignited new consumer behavior:
We became beauty DIY experts

Hair and nail salons closed, yet hair and nails stubbornly continued to grow. While some of us embraced hair bands and visible roots, others took matters into their own hands.
Amazon reportedly achieved a 172% year-on-year increase in sales of hair coloring products for the four weeks ending April 11, 2020. Nail care sales increased by 218% in the same period.
Post-lockdown wait times for a cut and color suggest most consumers are eager to get back to the salon. However, some will continue to practice their newly honed (and money-saving) skills at home, presenting an opportunity for brands to expand into this category.


We tried independent brands

As online marketing replaced shelf presence, small indie brands found a (more) level playing field to compete for customer attention. It was no longer essential to have a large in-store presence to catch a browser's eye. Instead, smaller companies could focus on sharing their message through social media and influencer marketing.
US-based medicated skincare brand Topicals is one such brand. Its Gen Z-focused packaging, website and social media presence drove momentum in a year when many small companies floundered. In August 2020, it announced a $2.6 million investment from investors, including Netflix CMO Bozoma Saint John.


We embraced self-care

In a time of uncertainty, people turned to self-care. This further expanded the definition of beauty as a category of products that nourish and support rather than mask perceived imperfections.
Despite specializing in products that deal with flaky and dry skin, Topicals firmly positions itself in the self-care (rather than medicinal) camp, with the strapline 'Funner flare-ups'.
Pause Well-Aging, a US brand targeting menopausal skincare, is another example. Its website states, "Pause is more than just skincare. It's a movement affirming that beauty gets better with age." Instead of promoting the anti-aging properties traditionally touted on skincare packaging, it provides women with what they need to age well.
Also, a new need for hand cream arose as people sought to soothe dry hands caused by antibacterial sanitizers.


We braved online cosmetics shopping

Before the pandemic, in-store shopping accounted for around 85% of make-up purchases. Beauty shoppers, who never purchased products without a trial and in-person advice (including me), were forced to dabble in online shopping. We began the painstaking process of working out which foundation shade, lipstick color or eyeshadow palette would suit us without the help of a tester. Though beauty brands have been exploring augmented reality (AR) and artificial intelligence (AI) for some time, lockdown accelerated its adoption. The technologies enabled customers to try on products from the comfort and safety of home.


Augmented Reality

L'Oréal saw usage of its virtual make-up tools rise fivefold during 2020's lockdowns. Its 'Virtual Try On' tool uses AR to enable its website visitors to try on its products, either live using a phone camera or by uploading a photo. A feature that might once have appeared gimmicky, this option has become an essential offer for customers to experiment with new looks.
Premium brands, including Bobbi Brown and Chanel, have similar web-based AR technology that provides insights into how make-up might look when worn.
These brands demonstrated that this feature appeals to a far wider audience than Gen Z and Millennials already familiar with Snapchat filters.


Artificial Intelligence

US beauty brand IL Makiage, which launched in the UK in May 2020, solves the color match problem with a 90-second quiz. It asks consumers to look at images of people with different skin shades and identify which one most closely matches their skin tone. Images are repeated and refined until the customer is deciding between subtle differences in skin tone. It also collects additional information, such as skin type (oily, dry, combination) and vein color.
Results are analyzed using machine learning technology from NeoWize Inc, the Israeli AI company that IL Makiage acquired in 2019. Potential customers are presented with the foundation that's best suited for them, along with the accompanying concealer.
Following the quiz, all the products displayed on the home screen are shown in the color most suited to your skin tone, making it easy to fill up your shopping cart in a few clicks.

Innovating for success – what's next for beauty brands?
The past 18 months have taught us that the world can change in a moment. They've also taught us the power of innovation and agility. The most nimble brands can gain first-mover advantage. We've seen online presence, e-commerce and smart tools reaching consumers in a different way to traditional retail experiences, which is the new normal for many. Having seen what can be achieved in exceptional circumstances, beauty brands should feel confident about embracing future change. For an industry specializing in makeovers, this shouldn't pose a problem.
---
References


Find the authors on LinkedIn: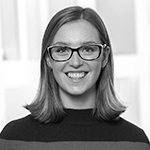 Jessica Platt
Associate Insights Researcher