The risks and opportunities of the circular economy
Find the authors
on LinkedIn:
Is 2018 the year of the plastic revolution? It's certainly starting to feel that way. The 'Blue Planet II effect' – what happens when the devastating impact of our plastic lifestyle is laid out in exquisitely shot detail to more than 10 million viewers – seems to have set in motion a chain of events in the UK. Plastic waste is being talked about, and the organisations responsible for producing it are seeing a lot of publicity – good and bad. Would the recent announcement from frozen food retailer Iceland – that it will end the use of plastic packaging within five years – have made the front page of the Daily Mail (the UK's second biggest newspaper) a year ago? On the flip side, in the Philippines some of the world's biggest fast-moving consumer goods (FMCG) companies received some rather less-welcome publicity when it was revealed they topped the producer leaderboard in an audit of plastic waste removed from a critical coastal wetland habitat. Market research is showing that millennials – a big target of these companies – care about the environment enough to make buying decisions based on sustainability. Fixing the plastic problem has moved from the head of sustainability's wish list to a central part of any marketing strategy.

So what to do about it? The most compelling solution is to create a plastics 'circular economy'. This approach is based on preserving the value invested in products and the materials that go into them by reusing or recycling them in 'circular' loops for as long as possible, instead of the more conventional 'linear' take-make-dispose model. Any waste that is generated is no longer unwanted – it stops being waste at all, instead becoming a resource for the next generation of products.

Already 2018 is shaping up to be a big year for the circular economy, with some significant announcements. At last month's World Economic Forum, the Ellen Macarthur Foundation announced a list of 11 global brands – including household names like Coca Cola, PepsiCo, Unilever and Walmart – targeting 100% reusable, recyclable or compostable packaging by 2025 or earlier. Perhaps more significantly, many of these companies have also committed to substantially increasing the recycled content in their plastic products over the same period, which equates to a serious scaling up of this particular embodiment of the 'circular' model. The Chinese and Indonesian governments – global heavyweights in both the production and consumption of plastic products – also announced plans to step up their involvement in bringing about a circular economy, and the European Union recently released its own 'circular' plastics strategy.

The intent is there, then. So what do designers and innovators, particularly in FMCG, need to keep in mind for 2018? I think there are risks and opportunities in equal measure:

1. Poor design for end-of-life has become a reputational risk. Take Lucozade, for example – public outrage over its plastic bottles, which were perfectly recyclable but wrapped in a label that confused waste sorting equipment into thinking otherwise, led to a fast-tracked announcement to change the design. Having a design that is compatible with end-of-life processing is no longer a 'nice to have', it is mandatory and urgent. How much longer before all packaging made from virgin material is under similar scrutiny?

2. Choose your circular strategy. At the same time, big opportunities are opening up for products that take advantage of the changing landscape. Consumers, informed by mainstream media, are becoming increasingly savvy about the impact of their buying decisions and are looking for better solutions. Two types of circular innovation are emerging:
a. Scaling up a circular approach within the paradigm of existing plastic packaging – global FMCG firms seem to mainly be going down the route of designing packaging, made from recycled material, that is itself recyclable. I think of this as a 'big circle' approach – using existing recycling systems and markets to reuse raw materials. It sounds like a simple change from the status quo but, because of the huge scale of the plastic packaging ecosystem, it is going to take a lot of work!
b. Redesigning the business around a circular approach – small start-ups are emerging with more radical circular economy business models; offering the consumer solutions where packaging is reused or even designed out altogether. As an alternative to disposable coffee cups, London start-up Cup Club offers a pick-up and drop-off system for reusable cups to take the hassle out of bringing your own cup to a coffee shop (developing a model seen in Germany over the past year). I would describe this as a 'little circle' approach – the overall consumption and movement of resources is minimised. These new ideas are riskier because they usually require consumers to change how they use a product or service – but a well-designed offering at the right time can really take off.
3. There's no 'I' in 'circle'. OK… there is. But I can't think of a really great circular economy solution that is achieved by one organisation acting alone. Whether it's packaging companies working with waste-sorting and recycling facilities or companies asking their customers to do things just a little bit differently (and rewarding them when they do), the circular economy requires more communication and collaboration throughout the whole value chain.

With three billion people worldwide expected to join the middle class by 2025, the World Bank has described the upcoming surge in consumer demand as a "potential time bomb" that will lead to inevitable resource constraints. The recent public engagement in plastic waste, and the circular economy, is an opportunity that designers and innovators need to grab with both hands. People are asking to see a vision for a better, more sustainable way to access the products they love. It's our job to show them.
Find the authors on LinkedIn: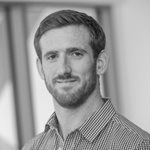 Matt Morris
Senior consultant mechanical engineer