CDP advances surgical robotic technology
In collaboration with CDP, Titan Medical has unveiled its next-generation technology for single-access robotic-assisted surgery (RAS).
End-to-end product development partner Cambridge Design Partnership (CDP) assisted Titan Medical in designing and developing the next-generation technology for single-access RAS.
In a short time, a diverse CDP team of systems engineers, human factors specialists, industrial designers, and mechanical, electronics, and software engineers collaborated with Titan Medical to propel the development from initial concept to advanced prototype. The project is the latest example of CDP's work in high-impact innovation in complex medical devices embodying the company's mission to improve lives through innovation.
Hans Pflaumer, Head of Robotics at CDP, says, "The starting point for this next-generation technology was the remarkable core innovations and intellectual property that power Titan Medical's two-instrument Enos system. Titan Medical's articulating instrument technology provides an impressive balance of dexterity and strength, allowing the surgeon to precisely maneuver them to achieve procedural tasks like grasping, suturing, and cutting. Similarly, Titan Medical's 3D high-definition camera provides crystal clear visibility for the surgeon to be able to see the surgical site. We built on these core technologies, adding functionality for a third instrument and focusing on the usability, performance, and reliability of a RAS system."
Cary G. Vance, President and CEO of Titan Medical, says, "CDP, with their proven record in innovation, enabled us to quickly unlock the value of our IP and convert our purpose-driven innovations and inventions into functioning prototypes. CDP has been a key partner through the years, delivering timely, high-complexity, and top-notch work. We are excited to share this achievement with them."
By enabling surgeons to perform procedures through a single incision, Titan Medical's technologies have the potential to reduce patient trauma and scarring and could enable patients to recover faster. This next-generation technology introduces advanced new features, such as software-enabled remote center of motion, and adds a third dexterous instrument to allow greater procedural flexibility and enhanced surgeon control. Innovations in the design allow a more compact footprint and lighter weight than current systems, taking up less space, making it easier to maneuver in space-constrained operating rooms, and providing open access to the patient.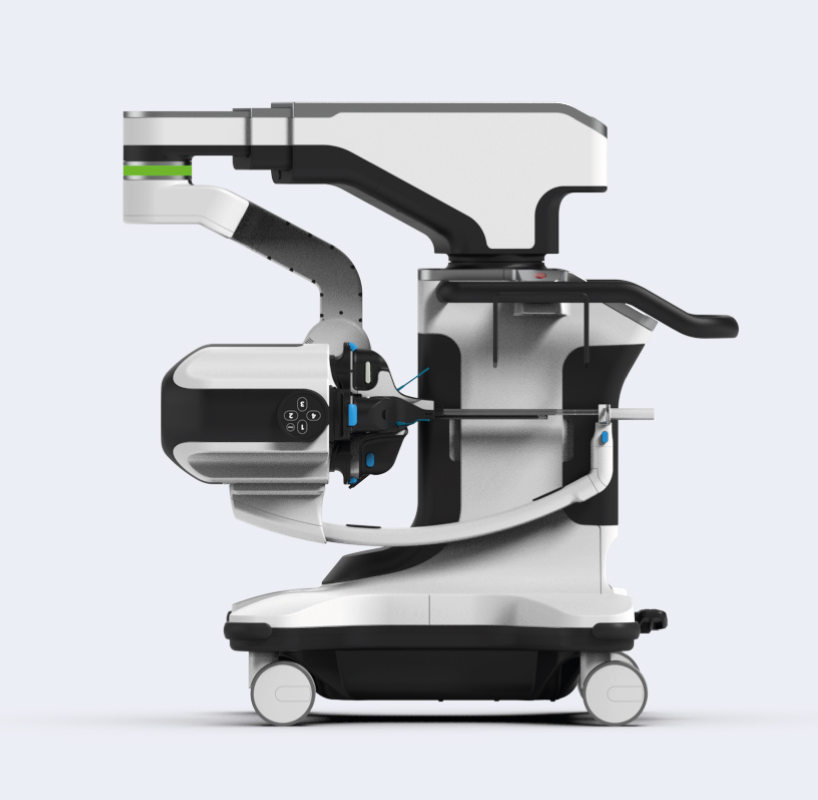 Aki Laakso, Partner and Head of US Office at CDP, adds, "Ultimately, the focus needs to be on the patient and on enabling the surgical team to achieve the most successful surgical outcomes safely and effectively. A key insight that fed into this development was recognizing that many RAS systems crowd the bedside and impede access to the patient. Sometimes you can barely see the patient under the robotic arms! We saw an opportunity to create a patient cart with a minimalistic and open architecture that is easy to work with and work around. Our work in advanced medical devices, particularly RAS technologies, continues to be one of the highlights of CDP's 27-year history. This milestone is a proud moment for us, and we believe this technology will be a benchmark for single-access surgery."
Pflaumer concludes, "Designing highly capable RAS systems means carefully navigating challenges and compromises such as performance and safety. Our approach resulted in an advanced and simple-to-use system that finely balances those difficult compromises. We delved deep into Titan Medical's extensive intellectual property portfolio to be able to develop the best of all available technologies and bring our client's valuable know-how to life. When working with CDP, our clients get access to our proven history of innovation, our nimble processes, and highly capable teams. This project is a great highlight of our capabilities embodied in one deliverable."
"CDP has been a key partner through the years, delivering timely, high-complexity, and top-notch work. We are excited to share this achievement with them."
---
To learn more about our RAS capabilities, contact:
Hans Pflaumer: Hans.Pflaumer@cambridge-design.com
Aki Laakso: Aki.Laakso@cambridge-design.com