Tipping the innovation odds in your favour
Find the authors
on LinkedIn:
Earlier this month I attended The Market Research Event (TMRE) conference in Las Vegas; the gambling capital of the world. Whilst I don't think the juxtaposition between the conference and its choice of location was intentional, it certainly presented an amusing analogy between the dollars that consumers put into the slot machines hoping for big wins, and the billions that organisations spend on innovation hoping for market success. Depending on your point of view, you might think the punters in the casinos are faced with better odds!
However, organisations can tip the odds in their favour by investing in robust front-end innovation (FEI) through research, insights capture and translation, to uncover and define market opportunity prior to high-cost product development. Enabling organisations to achieve this is essentially the crux of the TMRE event.

Any conference related to innovation would not be complete without some mention of disruption, and this year's event didn't disappoint with AI and agile as key themes.

Disruption and AI
In this case the term disruption referred to disruption of the research and insights market itself. Prominent amongst the messages was the growing use of AI for research and knowledge management. As a front-end innovation researcher two examples grabbed my attention, AI-driven insight extraction and AI-driven research moderation.

AI data analysis of transcribed audio or video (such as that from depth interviews, focus groups and contextual enquiries) and native text (from sources such as online communities or social media scraping) can help to identify, extract and stitch key insight themes. This has the potential to significantly reduce the content analysis and coding 'leg-work' of qualitative researchers.

A step further is AI-based research moderation in which respondents are "interviewed" through software that engages in a one-on-one discussion – in written chat format – with research participants, gathering responses and following-up to expand the discussion. The benefit is the ability to reach-out to larger sample sizes than traditional qualitative research can accommodate, from both time and cost perspectives. An example presented by Clorox was recent work for their NeoCell collagen brand. In collaboration with Quester they deployed AI to uncover the many jobs-to-be-done of women looking to care for their skin.

On the face of it, these would certainly seem to be disruptive and make any qualitative researcher sweat a little about their vocation, however, in reality such technology is best deployed in harmony with the human mind rather than as a replacement. I was heartened that Kirti Singh, Chief Analytics and Insights Officer P&G, said during his keynote that "Every A&I (analytics and insight) professional at P&G has the ability to connect with people directly." Human interaction is not only encouraged but viewed as an imperative in understanding customers behaviour and needs. For every AI application that will tell us the 'what', we will likely – at least for some time yet – require the human mind to join the dots and explain the 'why' that drives successful innovation. Empathy and storytelling still remain the domain of the human.

Agile
'Agile', and particularly 'lean start-up' innovation processes encourage large organisations to behave more entrepreneurially and have been prominent for some time. However, their application at the research and insights phase is now gaining momentum. Amongst many examples at TMRE, Cargill Protein deployed the jobs-to-be-done innovation perspective to ground rapid co-creation of new restaurant dish ideas with chefs, followed by prototyping and testing, in six weeks.

At CDP we undertake similar 'innovation sprints' facilitated by our Insight for Innovation and Design teams. Depending on the nature of the market and appropriate MVP (minimal viable product, either paper, physical or digital), these can be implemented within one or two weeks. When undertaken in-field, such rapid turn-rounds provide validated insights without the need to re-visit markets for concept testing; often a costly process. Where required, higher fidelity prototypes can be produced in our state-of-the art 3D print-studio, workshop and electronics lab.

More generally, key to CDP's approach to insights capture is to first understand our clients' business and innovation needs (we like to practice what we preach!). Being purposefully methodology-agnostic, we are then able to design a programme of research that will meet objectives within appropriate timescales and budgets; be that a large-scale global qualitative and quantitative study, a lean qualitative exploration, or a rapid sprint approach, using artificial or human intelligence! We believe that ultimately it doesn't matter exactly what consumer, customer or stakeholder engagement journey you take, just be sure to take one. That way next time you look to innovate in your market, or maybe move into a new one, you can find out where on the innovation roulette wheel you are wise to place your chips.
Find the authors on LinkedIn: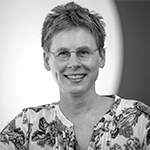 Nicki Sutton
Consultant Innovation Specialist