Team expertise
Clinical Manufacturing
Deep expertise and advanced facilities, getting Class III devices to clinical trial
Class II and III medical devices
Capacity for up to 100,000 devices
26,000 sq ft UK manufacturing center
Class 7 cleanroom
ISO 13485 certification
We manufacture Class II and III medical devices – mechanical and electronic, durable and consumable – for our global clients. So, we understand the barriers they face getting their product from design to manufacture for clinical trials.
We've invested in the advanced clinical manufacturing facilities, domain expertise, and compliance to overcome our clients' challenges, from fulfilling the volumes to managing the complexity of the set-ups they need. We're capable of producing up to 100,000 devices under our ISO 13485 certification, harnessing the leading-edge facilities at our 26,000 sq ft UK manufacturing center, including an ISO Class 7 cleanroom.
Our expertise extends across aseptic filling and sterilization, which we deliver through collaboration with our proven partners, as well as performing device assembly, labeling, and logistics in-house.
We regularly conduct design verification testing, including developing bespoke test methods, which we subsequently validate, managing the entire validation process for our clients. We create the documentation for design history and technical files, and support with the regulatory submission.
Our clients trust us to advance their Class II and III medical devices, from design to clinical manufacture. These devices create a fast track to user studies and clinical trials, then onwards to the clinic and regulatory submission. Our clinical manufacturing capability, shaped by years of practical experience and harnessed for the world's leading healthcare companies, is proof of the purpose that unites us: to improve lives through innovation.
Assembly
Aseptic filling & sterilization
Labeling
Logistics
Design verification testing
Packaging
Technical and design history file assembly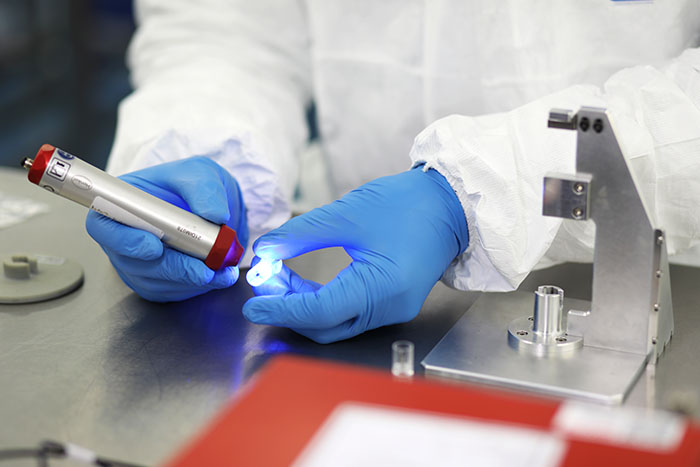 "We ensure rapid progress from concept to clinical trial by looking beyond the brief, bringing deep healthcare-sector knowledge and manufacturing expertise, and working closely with clients and clinicians."
Wade Tipton
Head of Manufacturing and Quality